Welcome to Boiler Services Dublin our gas boiler service engineers are at your disposal. We are widely regarded as Dublin's premier specialist boiler servicing company. Why you may ask? There are many reasons. We have over 40 years experience in servicing boilers throughout the county. This means regardless of the make, model or age of your gas boiler we have the knowledge and know how to ensure that your boiler runs as efficiently as possible during the next 12 months.
Have your gas boiler service at a time that suits you.
As specialists within the industry we realize the through our experience that our customers sometimes have hectic lifestyles. This is why we operate 7 days a week and in the evenings. This means when you need your annual gas boiler service we can arrange to visit at a time that suits you. Whether it be 8pm in the evening a Saturday or a Sunday we never charge any extra. This is all part of the high quality customer service we offer to our clients.
                                                      About us.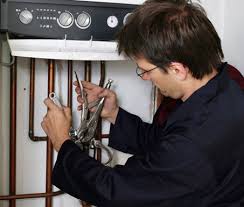 We pride ourselves on employing only the best boiler technicians in the county. We have some senior staff who have been replacing, repairing and servicing gas boilers in Dublin for over 35 years. All of our technicians qualifications are stringently checked prior to employment. They are all fully qualified plumbers who decided to specialize in boiler services. They are all R.G.I. registered and up to date with all current health and safety legislation. Once your boiler has been serviced you will get a professionally signed ticket saying that it has passed inspection and is working at it's optimum capacity.
Why should I get my Gas Boiler Serviced?
There are a number of reasons. An annual service will ensure that your boiler is working correctly to the specifications stated by the boiler manufacturer. This will assist in extending the lifespan of the boiler and greatly reduce the risk of faults and expensive repairs in the future.
Unfortunately like anything the efficiency of your gas boiler will gradually deteriorate with use. There below are some reasons for this.
During the combustion process soot is produced, this coats the heater exchange surfaces.
The air to fuel combustion ratio changes gradually due to parts wearing.
A gas boiler service will remove any sooting. The boiler will then regain optimum combustion conditions. Optimizing efficiency means reducing fuel costs.  Whilst saving money is always important there are other benefits also.
Having the safety controls checked means that early failures can be identified and rectified.
Your boiler will be checked for gas leaks.
Your boilers start up performance can be checked and optimized.
If your boiler is making strange noises, these can give a signal of impending failure of certain parts. These issues can be addressed and rectified.
Get your boiler serviced by the professionals for as little as €59 depending on the make and model. To arrange your gas boiler service just call boiler services Dublin on 01-8326699. If you would like to learn more about boilers or verify the information above just click the link. http://www.boilerinfo.org/